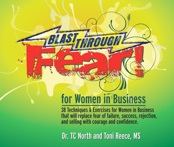 A 5 CD program (or download) with 38 techniques and exercises
for women in business that will replace
fear of failure, fear of success, fear of rejection
and fear of selling with courage and confidence.
Join high-performance executive coach Dr. TC North as he shares proven techniques to Blast Through and overcome your fears and in his riveting conversation with 5 magnificently successful women as they candidly share their fears and success stories.

You'll learn to:
Identify and resolve the eight faces of fear of failure.
Recognize and resolve the most cryptic of all self-sabotaging fears: the fear of success.
Come to grips with fear of rejection and improve your relationships.
Overcome fear of selling, including selling yourself as well as your ideas, products and services.
You'll learn 38 specific techniques to gain control of your fear.
At least one will absolutely work for you! Techniques like:
Be a Master of Thought Control
Let the Good Stuff In
Connect With Success
Build a Confidence Anchor
Dr. TC North is a high-performance executive coach with 27 years of experience helping business leaders and world-class athletes train their minds for greatness. For over two decades, he's been using his techniques to help women in business conquer their fears and retrain their minds to create greater success.

Special Guests:
Cathy Greenberg – Best-selling co-author of "What Happy Working Mothers Know"
Viki Winterton – Publisher of Insights Magazine
Andrea Waltz – Co-author of the best seller Go For No!®
Lisa Jimenez – Best-selling author of "Conquer Fear!"
Hosted by Toni Reece, founder of The PEOPLE Academy, Inc. and dedicated advocate of helping women find their inner voices of success. Engage in this life-changing program to blast through and gain control of fear. Now … and forever.